Organize, manage and update the information of each of the configuration items (CI's) of one or multiple projects within your business, from a single, centralized data repository.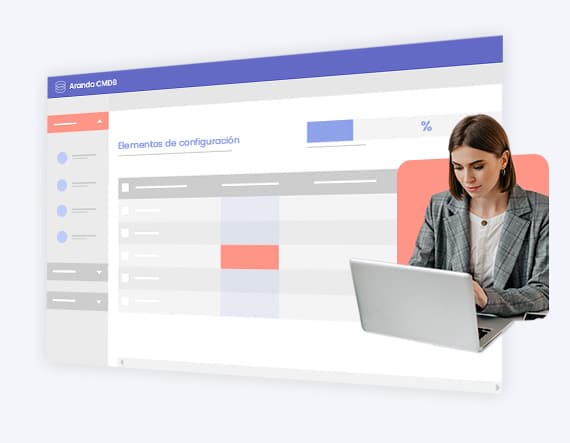 Make decisions with accurate information on assets and components related to service delivery in your organization.
Aranda CMDB software allows storing detailed information of each of the CI's and facilitates the understanding of the relationships and dependencies between them, minimizing the impact on service delivery and reducing investment costs.
Centralized information on your entire inventory
Import, manage and organize your inventory configuration items, through the detailed stock record of each asset, obtaining an overview of your investment.
Record of inventory information for each device, including name, category, serial number, manufacturer, responsible party, etc.
Detailed information on the location of the assets within the organization: from the city to the office where it is located.
Relate the peripherals connected to your assets.
Automatic control and traceability of your CI's movements. IC's between sites, areas, departments, managers, etc.
Projection of the devaluation of the price of each asset from the initial price recorded.
Assignment of single or multiple users responsible for each asset.
Complete asset lifecycle management
Manage and administer the information of each of your asset suppliers. View and edit details such as name, location, contact, relationships, purchased products, website and associated comments, among others.
Manage the registration of contracts corresponding to the acquisition of each asset and program alarms to remind you of their expiration dates. Link to your contracts information of cost centers, invoices, warranties, suppliers, among others.
Define maintenance plans for the ICs and generate alarms by due date, allowing to know and alarms for expiration, allowing to know and distribute the total cost of the resources in the different areas of the organization.
Determine the direct and indirect costs (usage and maintenance aspects, operating costs), as well as the benefits and benefits, related to the purchase of the assets.
Implemente a practicetic tool for the planning of spendingos, presupuestos y proyecctions a traves of the management of costos throughe le generation of reportes clasificados por centros de costo, sucursales, unidades de negocio, proveedores, departamentos, entre oths.
Create profiles that allow you to associate CI's with users or related criteria for easier and more specific searches. Know the assets associated with each profile and determine the TCO for each resource, facilitating budget projection and streamlining processes to evaluate expenses by position.
Ensure that the information recorded in the CMDB matches the actual configuration of the organization's IT structure.
Get more out of the information stored in Aranda CMDB, with the integration of solutions that facilitate a more effective management of your services and resources.
More effective case management
Aranda CMDB allows you to associate your configuration items to a catalog of services established in Aranda Service Desk. By enabling the linking of incidents, changes and problems with the different CI's and their respective dependencies, it provides your specialists with access to detailed and contextual information to diagnose the root cause and solution of problems.
It also allows to understand what other services are affected in the resolution of a case, and to prevent the impact that may alter the continuity of services.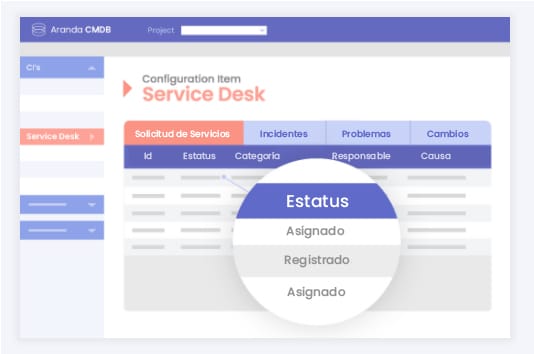 It is a very easy to install software that does not require any major technical requirements and offers an intuitive interface, easy to use and configure.
It allows storing information from one or several business units with functionalities that are activated according to the needs of the organization.
It facilitates timely expense planning and helps reduce costs by detecting underutilized resources and generating timely alarms.
It has ITIL Compatible certification by PinkVerify for the Service Asset & Configuration Management process thanks to its integration with Aranda Service Desk.
Facilitates detailed control
In addition to generating alarms with automatic notifications of contract expirations and upcoming audits, it allows for the agile scheduling of IC maintenance.
Includes advanced reporting
Aranda CMDB is natively integrated with the dashboards and advanced reporting tool Aranda Query Manager, as part of the licensing package of the solution. 
Would you like more information?
Get to know all the technical and functional specifications of the product.
See step-by-step instructions for installation, configuration and use of the product.
View chats with additional information and exploration of the product interface.
Read our blogs with more interesting information about this solution.
Large companies in Latin America trust in our product:
Aranda CMDB adapts to the needs of your business
| | | |
| --- | --- | --- |
| | | |
| | | |
| | | |
| | | |
| | | |
| Automated management rules | | |
| Native integration with ADM | | |
| Native integration with ASDK | | |
| | | |
| Knowledge of total cost of ownership | | |
| | | |
| Management of contracts, invoices and guarantees | | |
| Preventive or reactive maintenance management | | |
| | | |
Learn how to optimize your company's operations with the help of our solutions.