Backup and data protection software
The Aranda Data Safe platform is a comprehensive solution for centrally managing, backing up, protecting and seamlessly migrating your data and endpoint devices.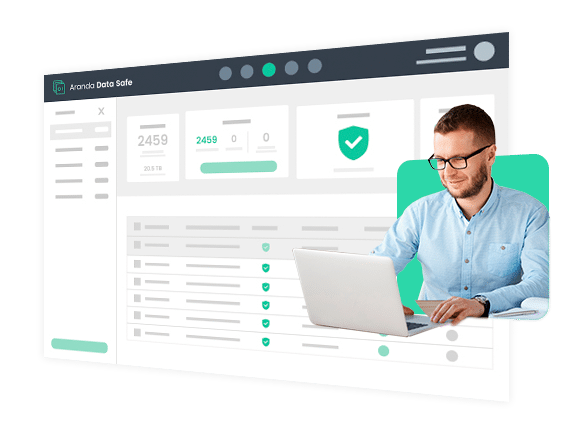 Prevent the loss of business information, with an integrated data protection suite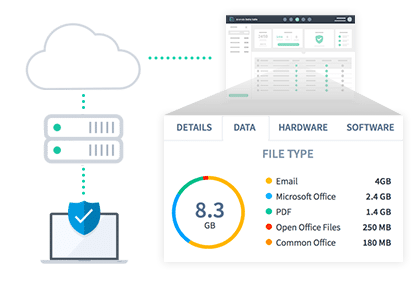 Get a complete inventory of your computer equipment, with detailed information on hardware and software, size and types of data on your devices, as well as usage and storage requirements.
Deploy the auto-discovery agent in your organisation on an unlimited number of devices and on a global scale.
Understand your data by knowing what data is, or is not, business data, what data is at risk and get a report with accurate usage and storage requirements.
Know your hardware and software inventory in real time, with a list of your computer equipment and a detailed software report, including installed applications, drivers, services and updates.
Activate centralised backups and obtain a permanent and secure backup of your critical data, regardless of where it is stored and where your users are located.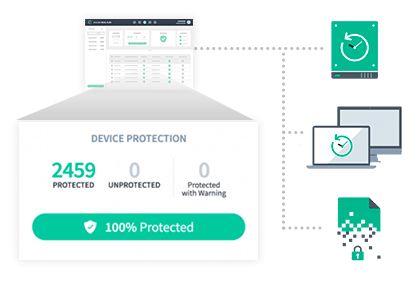 Granular policy control
Gain full control over backups; customise backup policies by branch, user or department. Select data for backup by file type or location, and ensure efficient management of backing up the right files.

Lowest TCO with best-in-class deduplication
High-performance backups with global source-based deduplication result in massive TCO savings, ultra-fast data transfers and minimal user, CPU and network impact.

Safer backup and storage
Aranda Data Safe uses zero-knowledge encryption key management to ensure that encryption keys are never exchanged with the storage system at any time.

Fast and reliable data recovery and restoration
Access the data in your recovery archive simply and quickly with independent snapshots that allow you to restore point-in-time restore points. Plus recover files or find a deleted document without the need for IT with self-service recovery.

Gaps closed in Office 365
Reduce the inherent risks of collaborative SaaS environments including: loss due to human error, unencrypted device data and limited DLP capabilities.

Optimised Outlook backup
Backs up the user's Microsoft Outlook Archive (PST) files regardless of where they are stored. Aranda Data Safe is optimised for fast, high-performance PST backup with best-in-class deduplication.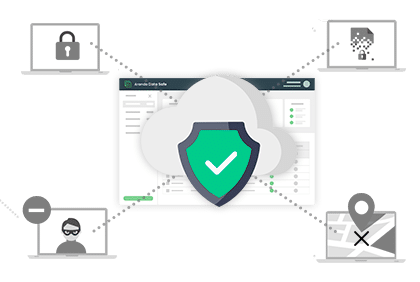 Data Loss Protection (DLP)
Protect your most critical business information against ransomware attacks, unauthorised access, theft and data loss by enabling powerful multi-layered protection with file encryption, remote access revocation, data theft prevention and geo-location of your devices with a single click from your management console.

File encryption
Centrally and remotely activate the encryption of the information on your computer equipment, completely protecting user files in the event of loss or theft of a machine.

Remote wiping
In the event of theft or loss of a machine, Aranda Data Safe allows you to erase the backed-up data from any machine remotely, guaranteeing the watertight security of all your information.

Revocation of access
Remotely revoke user access to backed-up data in the event of loss, device theft, or a user leaving the organisation. No matter what happens to your users' devices, your data is protected.

Preventing data theft
When necessary, you can revoke access to data if users do not access their profiles within a set period of time. With this automatic revocation feature, you can stay ahead of data vulnerabilities and create a strategy for large environments with higher staff turnover.

Geo-location
Track the location of any protected device for quick recovery or remote wipe of backed-up files, and increase the chances of recovering your device and the sensitive data it contains.

Centrally managed security
Centralised management gives IT full control over data security, while allowing threats to be addressed from a centralised point, regardless of the size of the organisation and the location of users.
Manage data migration remotely from Aranda Data Safe. Our migration feature allows you to select new and old devices, and migrate all files and user profile settings to the new machine or operating system in minutes.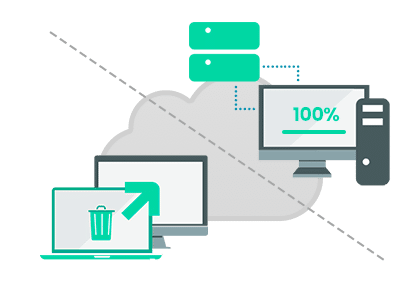 Remote activation and monitoring of migration
Migrations can be triggered centrally from the cloud console, making it possible to monitor their status and progress from start to finish. It is also possible to trigger multiple migrations simultaneously.

Full device-to-device migration
Device-to-device migration reduces the need for additional storage and migrates all files directly between the two devices. The migration is encrypted and compressed to optimise the process and reduce the impact.

Full migration of files and profile settings
All user files are identified and migrated seamlessly to the new device. In addition, the user's device profile, including system and application settings, are also included in the migration.

Live migration
Migrations occur while users continue to work and when you are ready to hand over the device, simply perform an upgrade migration to incorporate any new work or changes.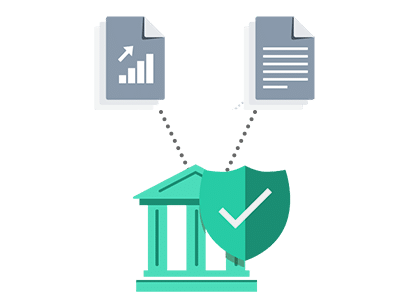 Data governance and compliance
Ensure governance and compliance with global information security standards such as GDPR, PoPl and ISO 27001.
Ensure compliance with data protection and corporate governance regulations, with centralised control over backup policies, encryption, DLP functions and business reporting.
Provide access to investigative or compliance teams without compromising the confidentiality of information, streamlining the audit process and mitigating the risk of data loss through industrial espionage.
Mitigate the risk of liability for executives and directors who have a legal duty to protect access to confidential information as well as critical organisational data.
Aranda Data Safe combines best-in-class data protection technology with the most intuitive administration interface. the most intuitive administration interface.
Solve the complexities of managing, migrating and securing your data in distributed environments with a single management console.
Easily deploy the ADS agent throughout your organisation, regardless of the number of discovered devices and hardware mix.
In addition to silent agent activation and installation, backups and encryption are performed invisibly to the user.
Aranda Data Safe's powerful dashboards and management reports make it easy to monitor thousands of users remotely at the central console.
Effective Spanish-language tool support and advanced resources for your IT team.
Large companies in Latin America already protect their data with our product:
Would you like more information?
Get to know all the technical and functional specifications of the product.
See step-by-step instructions for installation, configuration and use of the product.
View chats with additional information and exploration of the product interface.
See videos and tutorials with the functionalities of this product.
Learn how to optimise your company's operations with the help of our solutions.