Remote control and support software
Offer the best technical assistance with remote support for your customers, in real time and from anywhere in the world.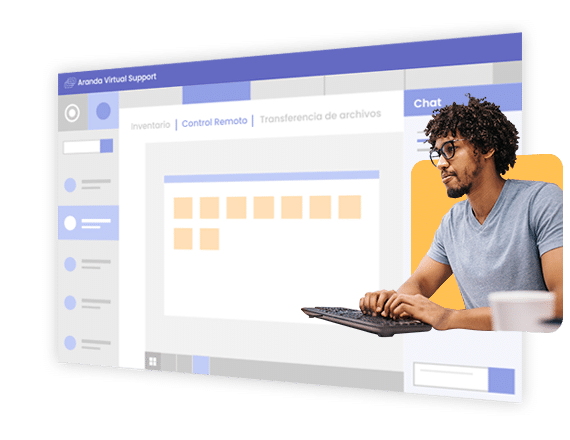 Deliver more timely solutions with real-time remote technical support
Regardless of the location, connection type or network where users are located, Aranda Virtual Support's powerful remote control solution will enable you to provide effective responses to your customers' device issues.
Remote control
cross-platform
Establish a remote control connection via the internet to one or multiple workstations (Windows, Linux or Mac systems) within seconds and execute the necessary troubleshooting actions.
Integrated collaboration tools
Make it easy for your support specialists to interact with end users or other specialists to resolve issues through integrated chat. Also, transfer sessions from one specialist to another so that they can continue the support process without interruption. 
With the specialist's console, transfer files securely to and from users' devices, regardless of file type, size or extension, thus avoiding the use of external software.
Why Aranda Virtual Support?
Remote connection and support is encrypted and unimpeded by routers, firewalls, proxies or NATs.
To optimise bandwidth usage during slow connections, colour and screen resolution reduction of the client device is enabled.
It allows attended and unattended access by specialists, with the option for the user to run the software without first installing it.
Install and configure quickly and easily into your existing infrastructure, without requiring a robust amount of space.
View and export the list of inventories generated before and during the remote session on your users' workstations.
Save the history of actions performed during the remote control session and record them for auditing and knowledge guide purposes.
Large companies in Latin America trust in our product:
Would you like more information?
Get to know all the technical and functional specifications of the product.
See step-by-step instructions for installation, configuration and use of the product.
View chats with additional information and exploration of the product interface.
Learn how to optimise your company's operations with the help of our solutions.